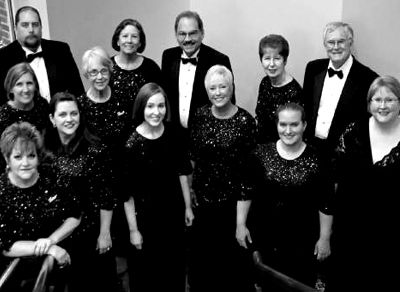 Where is registration and rehearsal?
All rehearsals unless otherwise indicated are at Trinity Presbyterian Church in Trinity Hall.
(545 South Mobile Street Fairhope, AL 36532)
What is involved with registration and how much are dues?
Registration forms for new members - fill one out when you come August 21st. For returning members who have already filled out a registration form, your info will be available to update during registration. Dues are $50 each semester, however, high school and college students do not pay dues. Each new singer will be asked to fill out a registration form giving us a musical background and contact information.
What is expected of me if I join?
Each week we will begin rehearsals promptly at 7:00pm. Vocal warm-ups are an important part to our rehearsals and should not be looked upon as an extra 10 minutes to get to rehearsal. Don't come at 7:10pm. We sing hard for 2 hours with a short break and your voice is a muscle that needs to be stretched and warmed up just like an athlete getting ready to run a race. We also use this time to listen to each other as a group for blend.
If you know you will be late or will miss a rehearsal please contact your section leader or me (Artistic Director) and let us know. We care about one another in this group and get worried about people. Even though we are a large group EVERYONE is important and you are missed when you are not here. It is important that you are at all rehearsals throughout the semester. Choral singing is not only about learning the music but about choral blend with each other. The sound is different when someone is missing. Remember that when you walk through the door into the rehearsal space we are all one. No matter what our level of musical training, how many degrees we've earned or what kind of ice cream we prefer, we are all singers. I ask that you bring your best every week and work hard.
Please bring your music, pencil and a ready to work positive attitude with you each week. Sectional rehearsals will be scheduled during the first half of the semester from 6:10 - 6:50pm in the choir room at Trinity Presbyterian. These sectionals are not mandatory but are offered to help you learn notes. Please remember no perfume, cologne or any strong scents at rehearsals or performances. Some people are highly allergic. Do wear deodorant!!
Are there any extra costs?
Mandatory Concert Attire is to be ordered through the Eastern Shore Choral Society.
High school students are not required to purchase concert attire; they are to wear basic black suit with bowtie or long black dress.
Women: Black Pavilion Pant- $34.00; Beaded top- $74.00. Closed toe shoes with black or off-black stockings. No bracelets or necklaces, ONLY a diamond-type stud earring.
Men: Black tuxedo $103.00- includes coat, pants, shirt, cummerbund, bowtie(red for Christmas and black for Spring).
Information about how and when to order concert attire for new choristers will be available soon.
Contact us at info@escs.org for more information.